I was introduced to German Amado Blanco, and his wife Sasha, to visit their home to see a painting by Amelia Peláez. Over the door opening which went from the living room to the dining room, they had this smaller painting of a woman's head. I ended up buying the latter, a magnificent Carreño duco from 1937, which Luis Amado Blanco, German's father, had purchased from the artist soon after it was painted. Neither German nor his brother Raul remembered whether the painting was painted in Mexico or Cuba, but all agreed that it was the product of the close working relationship which Carreño developed with Alfaro Siqueiros while he was in Mexico.

A bonus of that visit was the introduction by German to prof. Antonio Alejo - that will be the subject of the next "behind the curtain" memory.

Robert Borlenghi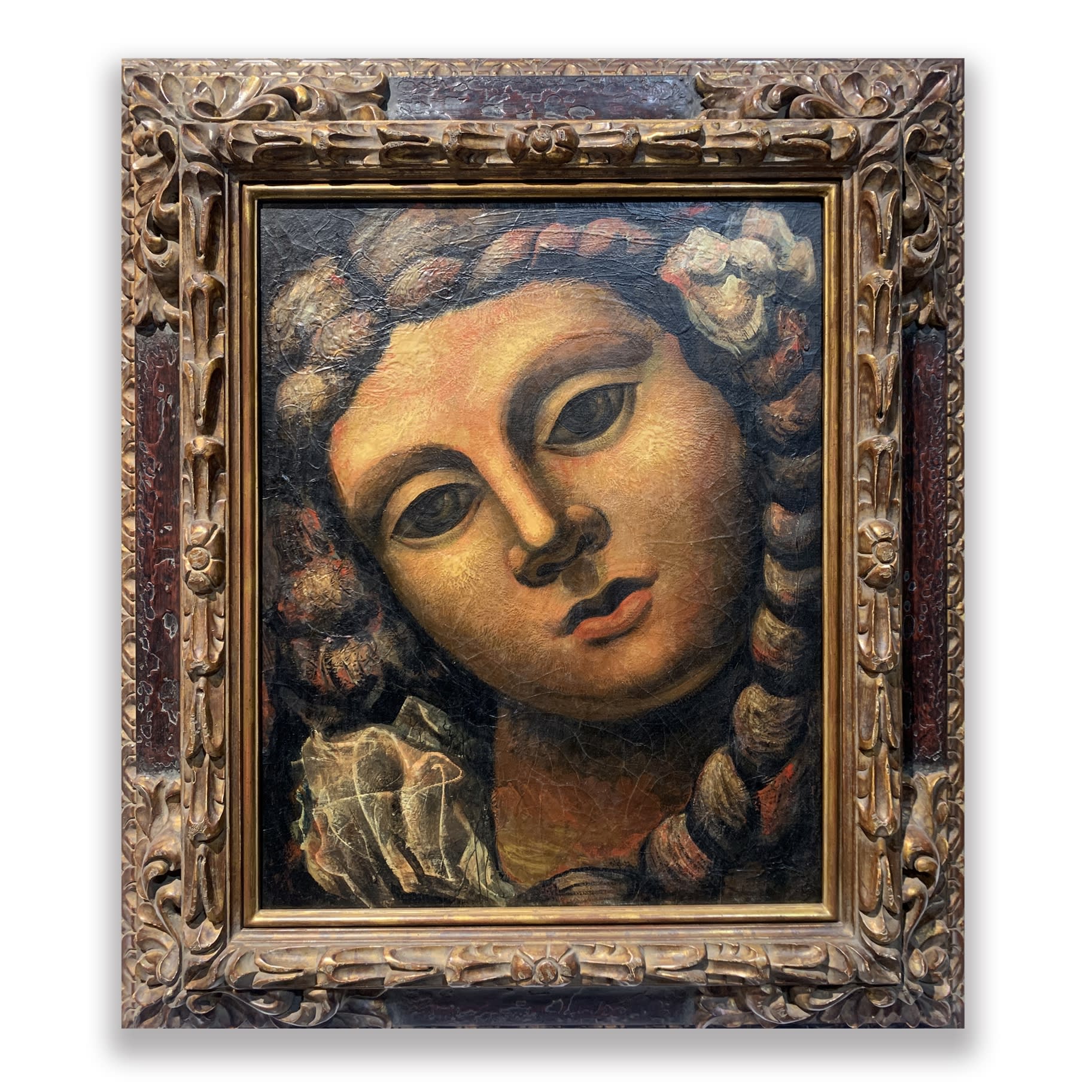 Mario Carreño. Face of Woman, 1937. Duco on wood, 24 x 19 in.
Face of Woman (1937) was acquired from German and Raul Amado Blanco of Havana; they were the sons and heirs of Luis Amado Blanco, a poet and ambassador to the Vatican, who acquired the painting directly from Carreño upon the artist's return from Mexico. Thus the painting has only had one owner before us, the Amado Blanco family. The Gomez Sicre book (see below) of 1943, where the painting is illustrated, shows Luis Amado Blanco as the owner as of that date. Thus the provenance is impeccable.
A comprehensive study on Carreño duco paintings by Jose Ramon Alonso suggests that apparently, this may be the first duco by the artist...
It is also illustrated in another, more recent treatise by Jose Ramon Alsonso on Carreño ducos. And also it is illustrated and discussed in two pages of the Fernandez Torna book (see below). The original thin gold frame was preserved, and we had a wood one hand-carved around it.
J. Gómez Sicre, Cuadernos de Plástica Cubana, I: Carreño, Ediciones Galería del Prado, Havana, 1943.
Jesus Fernandez Torna. Mario Carreño: Selected works 1936 - 1975. Pages 62 and 63.
Fragments from José Ramón Alonso Lorea. Los Ducos de Mario Carreño. ¿Santo Grial o Juego de Copas? Revista Hispano-Cubana, Nº.29, Madrid. 2007, pages 14-15.
February 26, 2022